Our History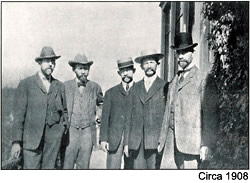 The Babbitt brothers - David, George, William, Charles, and Edward - came to Flagstaff in 1886 to go into the cattle ranching business. The brothers established the C.O. Bar ranch on lands between Flagstaff and the Grand Canyon. The historic C.O. Bar is one of the largest cattle ranches in the Southwest and continues in operation to this day. The C.O. Bar brand recalls the former Babbitt home of Cincinnati, Ohio.
By 1889, the Babbitt brothers also had established a general mercantile store in Flagstaff. This store supplied goods such as oil lamps, saddles, wool shears, canned food, hardware, and trade blankets to the trading posts which were beginning to spring up across the vast Indian Country of northeastern Arizona. Construction of the Atlantic & Pacific Railway along the 35th Parallel across northern Arizona in 1882 brought manufactured goods to the area for the first time. Since currency was almost unknown in Indian Country until the turn of the century, these manufactured goods were bartered or traded for Indian-made items such as baskets, pottery, rugs, and silver and turquoise jewelry. Centers of such commerce with Native American tribes dubbed "trading posts."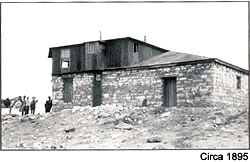 In 1891, the Babbitt brothers established themselves in the Indian trading business, acquiring the Red Lake Trading Post northeast of Flagstaff. Over the next 100 years, the Babbitt family owned and operated over twenty trading posts on the Navajo, Hopi and Apache Indian reservations in Arizona. Some of the best-known Babbitt posts were located at Tuba City, Willow Springs, Canyon Diablo, Cedar Ridge, Tolchaco, Indian Wells and Oraibi.
To commemorate our history in the Indian trading business, we have designed and produced a series of special edition Pendleton blankets honoring specific Babbitt trading posts. The first blanket recalls our family's first trading post at Red Lake, Arizona, and is a brilliant Navajo-inspired design. The second commemorative blanket recognizes our historic trading post at the Hopi village of Oraibi, and is based on a traditional Hopi textile design. Other limited edition commemorative blankets will follow in the future.